Posted by:

studio101

2008年7月29日 00:38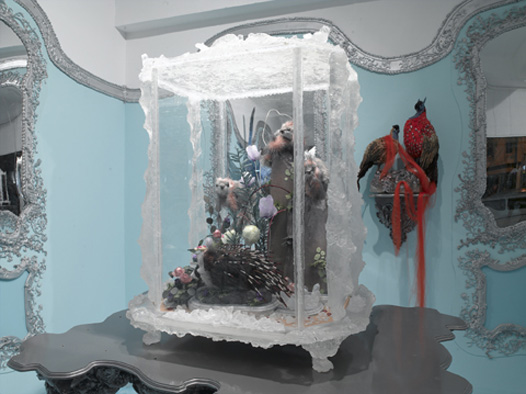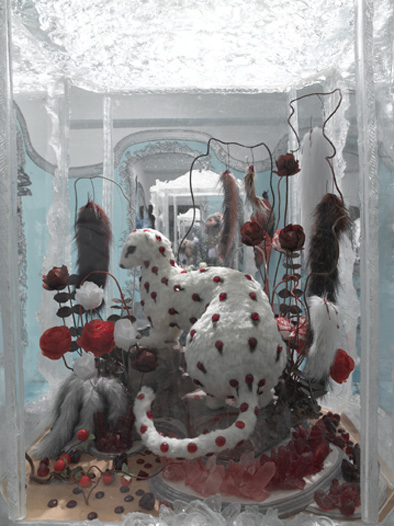 この度、井野アーティストヴィレッジスタジオ101にてケイト・ロードさんのアーティストトークを行ないます。
ケイトさんはオーストラリア出身のアーティストで、現在、トーキョーワンダーサイト青山でのレジデンスのため来日しています。彼女の経歴を見ても分かるとおり、今オーストラリアで最も注目を集めている若手作家の1人と言えるでしょう。彼女は主にフェイクファー、シリコン、樹脂など様々なマテリアルを用いて様々な動物、博物館の展示に用いられるようなジオラマやディスプレイ・ケースを制作しています。バロック様式やロココ様式を彷彿とさせる独特な形態をもつ造形物によって、人間によって支配された自然環境についての彼女の考察が提示されています。アーティスト・トークでは彼女のこれまでの活動や作品の根底にある考えなどについてお話していただきます。ケイトさんは8月にオーストラリアへ帰国のため、今回の井野アーティストヴィレッジでのトークは大変貴重な機会となるはずです。どうぞお見逃しなく!!!
 日時:2008年8月10日 18:00〜
 会場:井野アーティストヴィレッジ スタジオ101
    〒302-0012
    茨城県取手市井野団地3-16
    http://www.ima.fa.geidai.ac.jp/ino/
 通訳:武田明子
 アクセス:JR常磐線取手駅東口より徒歩15分
      取手駅東口より関東鉄道バス「井野団地」下車すぐ
-----------------------
IAV Artist Talk with Kate Rohde.
An Autralian artist Kate Rohde will give an artist talk at Ino Artist
Village Studio 101, Aug 10th.
Kate Rohde is from Australia, who is now participating in residence
program at Tokyo Wonder Site Aoyama. As you can see from her career, she
is one of the emerging and remarkable artists in Australia. She creates
various animals and display cases like in musemu using various
materials, including fake fur, silicone and polyester resin. She shows
her inspections of our nature and our environment through her Baroque
and Rococo style, unique works.
At this artist talk, Kate Rohde will talk about her past activities, her
idea on her works and upcoming project. It's too good to miss! She is
leaving for Australia the end of August.
-----------------------
Date:August 10(Sun.),2008
Time: from 6 p.m.-
Place: Ino Aritst Village(IAV) Studio 101
Address:
3-16, Inodanchi, Toride-shi, Ibaraki-ken
302-0012
http://www.ima.fa.geidai.ac.jp/ino/
Translator: Akiko Takeda
Access: Take JR Joban Line to Toride stn.
From East exit of Toride stn. 15 minutes walk or take Kanto Tetsudo Bus
to Inodanchi Stn.

ケイト・ロード Kate Rohde
略歴:
オーストラリア、メルボルン生まれ
1998 - 2001 ヴィクトリア・カレッジ・オブ・アーツ(VCA)優等課程
主な個展:
2007 - flourish (TarraWarra Museum of Art, ヒールズビル)
2007 - In my nature (Kaliman Gallery, シドニー)
2006 - Some kind of empire (Gertrude Contemporary Art Space, メルボルン)
Vicious Precious (Latrobe Regional Gallery, モーウェル)
2005 - Chateau Fatale (Westspace Inc., メルボルン)
2004 - The Big Chill (Canberra Contemporary Art Space, キャンベラ)
Perfect Specimen (Kaliman Gallery, シドニー)
2003 - Taxidermy (Kaliman Gallery, シドニー)
2002 - Cabin Fever (TCB art inc. メルボルン)
主なグループ展:
2008 - Handle with care, The Adelaide Biennial of Australian Art (The Art Gallery of South Australia)
Neo Goth (The University of Queensland Art Museum, ブリズベン)
The contemporary collage (John Buckley Gallery, メルボルン)
New Millennium (Lismore Regional Art Gallery, ニューサウスウェールズ)
Look! New Perspectives on the Contemporary Collection (National Gallery of Victoria,メルボルン)
2007 - Voiceless: I feel therefore I am (Sherman Galleries, シドニー)
Culture Trackers (24HR Art, ダーウィン)
Art & about (AMP Forecourt, シドニー)
Decadence, decay and the demimonde (Home House, ロンドン)
4αXY (Gallery 4A, Asia-Australia Art Centre, シドニー)
2006 - Strange Cargo (Newcastle Region Art Gallery, ニューサウスウェールズ)
Flaming Youth (Orange Regional Art Gallery, ニューサウスウェールズ)
Home Goal: Diversity in contemporary Australian art from the collection of Dr Dick
Quan (Bathurst Regional Art Gallery, ニューサウスウェールズ)
Beckon (Perth Institute for Contemporary Arts, パース)
Shelf life (MOP Projects, シドニー)
Fantastic Voyage (Kaliman Gallery, シドニー)
The Helen Lempriere National Sculpture Award (Werribee Park, ヴィクトリア)
2004 - She's Crafty (Firstdraft Gallery, シドニー)
Material Fiction (Blindside Gallery, メルボルン)
Supernatural (a collaboration with Kate Just)( Horti Hall Gallery, メルボルン)
2003 - Home Sweet Home, Works from the Peter Fay Collection (National Gallery of
Australia, キャンベラ)
Animality (The Blue Oyster Project Space, ダニディン, ニュージーランド)
2002 - New Art (Kaliman Gallery, シドニー)
Creatures (George Paton Gallery, メルボルン)
Only the Lonely (Block Gallery, シドニー)
2001 - Something for the Ladies (Penthouse&Pavement, メルボルン)
Line-Up (Mansour Gallery, メルボルン)
Kate (with Kate Just and Kate Stones) (Linden Gallery, メルボルン)
White-Wash (curated by Sharon Thorne) (69 Smith Street, メルボルン)
2000 - Even Better Than the Real Thing (George Paton Gallery, メルボルン)
Work From the Stables (69 Smith Street, メルボルン)
受賞歴:
2006 - Finalist, Helen Lempriere National Sculpture Award
Finalist, Ripe: ANZ private bank / Art and Australia Emerging Artists Prize
2005 - Participant, ABN Amro Emerging Artists Prize
2004 - Postcard Prize Winner, Linden Postcard Show
2000 - National Gallery of Victoria Women's Association Encouragement Award, VCA
Graduate Exhibition, Victorian College of the Arts
奨学金/レジデンス:
2008 - Arts Victoria creation grant
Asialink Visual Arts Residency (トーキョーワンダーサイト, 東京)
2007 - Australia Council for the Arts Studio Residency, (シテ・デザール, パリ)
2006 - Culture Trackers Program, 24hr Art residency, (オーエンペリ, ノーザンテリトリー州)
2004 - Australia Council for the Arts New Work Grant
2003 - City of Melbourne Arts Grant 2004 Recipient
所蔵:
Artbank
National Gallery of Victoria
Newcastle Region Art Gallery
Art Gallery of South Australia
The University of Queensland Art Museum