Posted by:

studio101

2014年8月10日 22:13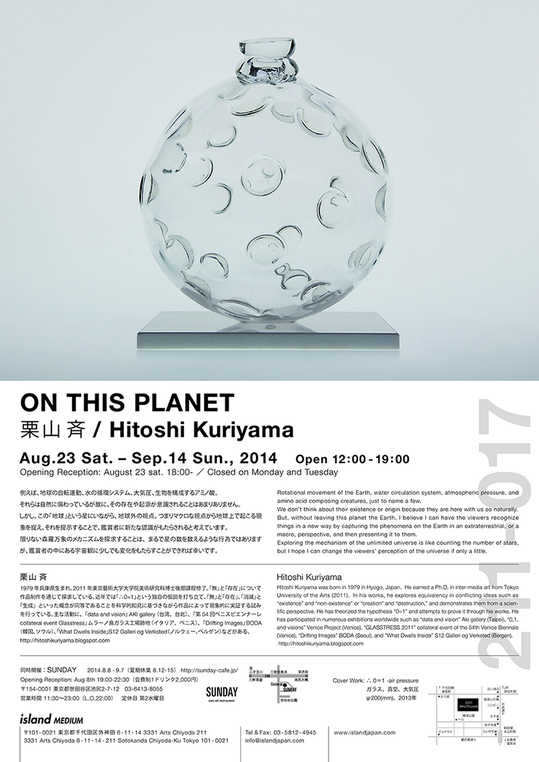 ON THIS PLANET 
栗山斉 / Hitoshi Kuriyama
2014.8.23 sat. - 9.14 sun.
Open 12:00-19:00 / Closed on Monday and Tuesday
island MEDUIM(3331 Arts Chiyoda 2階)
〒101-0021 東京都千代田区外神田6-11-14 3331 Arts Chiyoda 211
TEL:03-5812-4945
入場料:無料
Opening Reception: August 23 sat. 18:00-
Webサイト:http://www.islandjapan.com/gallery/index.php?itemid=124

例えば、地球の自転運動、水の循環システム、大気圧、生物を構成するアミノ酸。
それらは自然に備わっているが故に、その存在や起源が意識されることはあまりありません。
しかし、この「地球」という星にいながら、地球外の視点、つまりマクロな視点から地球上で起こる現象を捉え、それを提示することで、鑑賞者に新たな認識がもたらされると考えています。
限りない森羅万象のメカニズムを探求することは、まるで星の数を数えるような行為ではありますが、鑑賞者の中にある宇宙観に少しでも変化をもたらすことができれば幸いです。
Rotational movement of the Earth, water circulation system, atmospheric pressure, and amino acid composing creatures, just to name a few.
We don't think about their existence or origin because they are here with us so naturally.
But, without leaving this planet the Earth, I believe I can have the viewers recognize things in a new way by capturing the phenomena on the Earth in an extraterrestrial, or a macro, perspective, and then presenting it to them.
Exploring the mechanism of the unlimited universe is like counting the number of stars, but I hope I can change the viewers' perception of the universe if only a little.